808s and Bold Takes Issue 31: There Was No Justice for Breonna Taylor
Discussing the disgusting lack of charges for the cops that killed Breonna Taylor and a preview of Tuesday night's presidential debate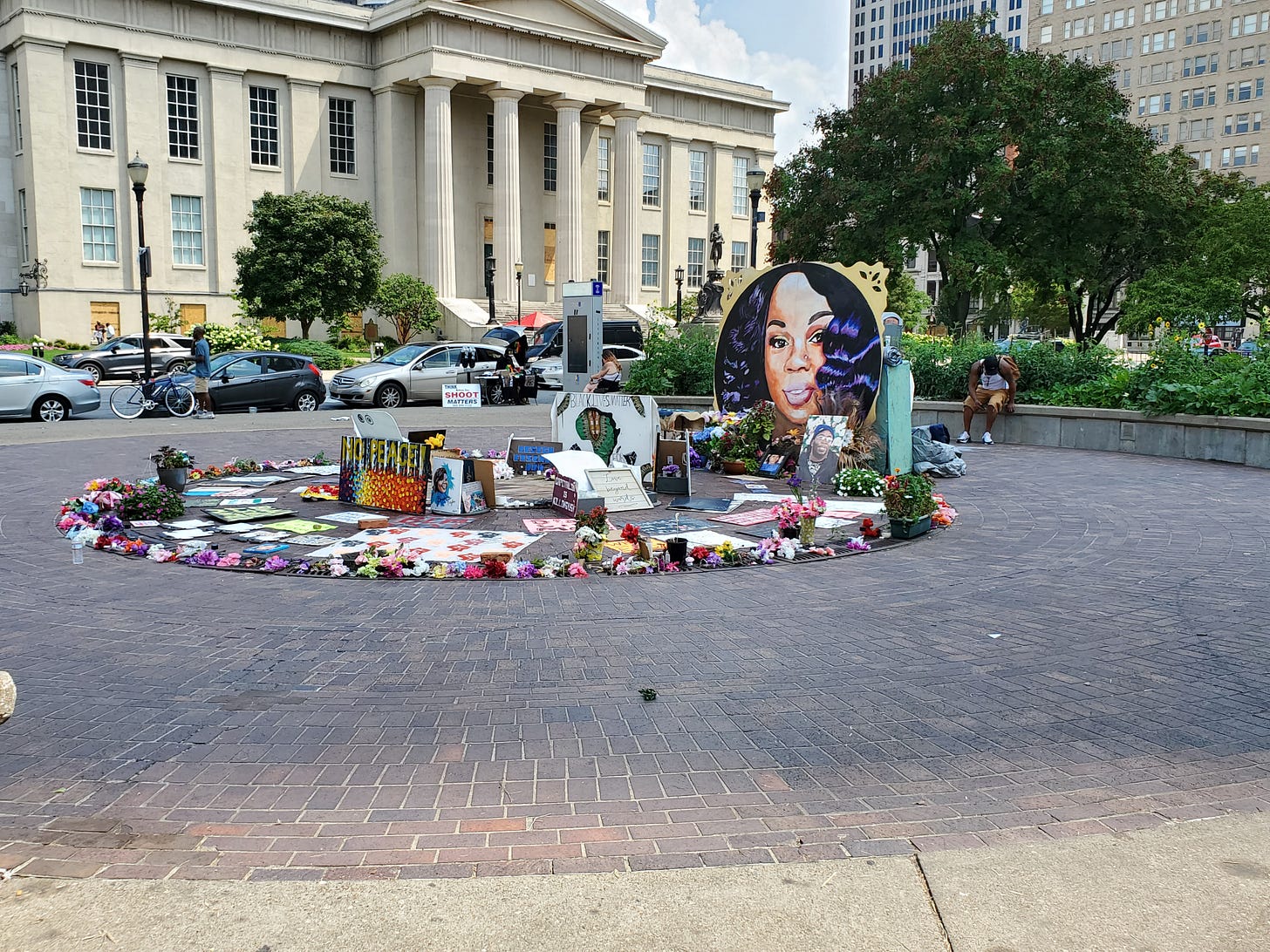 Hello and welcome to 808s and Bold Takes. My name is Varun Shankar. Later today, there will be a presidential debate for one of the biggest elections in over a century, but I'd like to start today's newsletter by talking about Breonna Taylor's case. 
There Was No Justice for Breonna Taylor
When it was announced that the Jefferson County Grand Jury wasn't going to indict and arrest the police officers in Louisville for killing Breonna Taylor, emotions ran high. Some felt anger, others felt sadness, but few felt shock. 
It wasn't shocking that the only charge levied against the officers was going to be for accidentally firing into a wall rather than for a murder. Because that's what happened to Breonna Taylor: she was murdered. There's been a lot of misinformation floating around about what happened on the night she was killed, some of it spread by Kentucky's Attorney General Daniel Cameron. 
Let me clear up what happened and, more importantly, what didn't. There are more details in this Washington Post piece, but here are the main points. 
Breonna Taylor and her boyfriend Kenneth Walker were asleep in her apartment when police came to her door. They had with them a shoddily written no-knock warrant that did not establish Taylor as an active threat to harm police, the requirement needed to have a no-knock warrant. The police made the determination when they arrived at the scene that Taylor was a "soft target" that didn't require the "no-knock" part of the warrant.
This means the police needed to knock and clearly establish who they were and why they were there. Cameron claimed that one witness heard police announce their presence. What he failed to mention was that 11 others interviewed by the New York Times didn't hear any announcement. In addition, the one witness who heard the police only admitted to hearing them in a third interview after repeatedly saying he hadn't heard the police and admitted that it was more than possible that Taylor and Walker couldn't have heard the police. 
Word to the wise: if 11/12 people can't hear you, and the one who can only say so after being asked multiple times and states that there was only one announcement that could've been missed due to outside noise, you didn't announce your presence clearly.
Police continued knocking on Walker and Taylor's door and, when there was no response, used a battering ram to break it down. Walker then shot his legally owned and licensed gun, but he didn't shoot it at police offers. 
Walker shot his gun at multiple unidentified individuals who broke down his door just after midnight. He had absolutely no way of knowing the men were police officers. He was just trying to protect himself and the woman that he loved and planned to marry. 
Here's more from Balko in the Post story mentioned above. 
"Cameron's statement gives the implication that Walker should have known that the men were police. But if police and prosecutors truly believed Walker knew, or should have known, that the raiding men were police, they would have prosecuted Walker for knowingly trying to kill them. Police and prosecutors don't take that sort of thing lightly. They did arrest him for firing at the officers. But they later dropped those charges and released him. That speaks volumes."
The officers responded with a hail of bullets, six of which struck Taylor, but somehow didn't kill her immediately. Walker said that Taylor "coughed and struggled to breathe for at least five minutes after she was shot." However, the ambulance that was supposed to be outside as standard operating procedure for police had been sent away, and by the time any medical personnel was able to tend to Taylor, it was far too late and she had died. 
The Jefferson County coroner said that Taylor most likely would have died within a minute of the shooting with or without medical attention, but that doesn't change the fact that she was not even attended to for over 20 minutes. 
Taylor's death was avoidable. If the initial warrant was denied by the judge because of how flimsily it was written, if the police had identified themselves clearly, if they had just decided to come in the daytime since neither Taylor nor Walker were flight risks, if any of those had happened, Breonna Taylor would be alive today. 
She would be able to live her dreams out, which her mother said included working in healthcare. She had just gotten out of a relationship that she and everyone around her claimed was toxic for her. She was with Walker, who loved her deeply and who she'd been talking about marrying. 
All gone, because of the sheer incompetence of the police force. It's why the words of Daniel Cameron–who said that this was a tragedy that wasn't the fault of any party–are so disgustingly false. His statements on the fact were so egregiously false that a juror anonymously filed a claim asking for the recording of the jury in the case to be made public. According to the anonymous juror, Cameron didn't even offer them "the option of indicting the two officers." 
That means the only charge Cameron brought in front of a grand jury was for property damage. For property damage. That's what he chose to focus on, rather than the innocent black woman who was shot by the men who were supposed to protect her. 
He cared more about property damage than about a woman's life. 
Property damage. 
There will be no justice for Breonna Taylor, even if the cops were prosecuted. She is gone, and we are all left to continue fighting to ensure there aren't more like her that follow. 
Debate Preview
There's no easy transition from that topic to this one, but I would like to talk a bit about the first presidential debate that'll be happening later tonight (Tuesday, September 29th at 9 PM ET). Joe Biden enters with a sizable lead, both in national polls and in state by state polling, but the three debates occurring before the election could shift that. 
Fox News, who is moderating the first debate, has already said that moderator Chris Wallace will not fact-check either of the candidates during the event. That means the onus is going to fall onto Joe Biden to fact-check the many spurious claims Trump will try and push past as he has done in the past. 
Obviously, the biggest topic in this election will likely be the President's mismanagement of the COVID-19 pandemic which has ravaged the United States. Biden has repeatedly hammered Trump on his inability to contain the virus, approaching it from different angles. That's seen by how Biden is handling the open Supreme Court seat. As the New York Times reports, the Democratic nominee is focusing on how a more conservative court would vote against the ACA and "eliminate protections for pre-existing conditions during a pandemic." 
In addition to COVID, the recent investigation by the New York Times into Donald Trump's tax returns, which revealed he paid no income tax in ten out of the last 15 years and just $750 dollars in his first year as President, will definitely be brought up at some point. I'm curious to see how it'll be worked into the discussion.
Biden will almost certainly find a way to attack Trump on that issue as another way to frame him as out of touch and appeal to working-class voters whose financial statuses were hit hard by the pandemic. Again, Biden will use Trump's mismanagement of the pandemic liberally, across a wide range of topics, to fully illustrate how disastrous the handling of the disease has been. 
It's going to be interesting to see how contentious the atmosphere will be without a crowd for these debates (again due to the pandemic), but also just how the two candidates interact with each other. 
Debates don't necessarily impact polls the way conventional wisdom thinks they do, but with such little time left before the election and with Biden holding a relatively commanding lead, something big would need to happen to change the result. In 2016, it was Clinton's email scandal, and without something like that happening this year, a total meltdown by Biden in the three debates might be the only possible event that could sway voters' minds to the extent Trump needs. 
As always, thank you to Eva for editing. That's all for this week. If you haven't yet, subscribe and share the newsletter with your friends.
Above all else, stay safe, and let's hope things get better. 
- VS